Hedwig Mollestad Ekhidna – from Norway –
Von wegen Männerdomäne. Dass die Gitarre nicht erst seit Hendrix oder Zappa ein exaltiertes Eigenleben führt, oder nicht erst seit Aarset oder Bro zur Klangkollage herangezogen werden kann, oder auch nicht erst seit Mary Halvorson ein asymmetrisches oder atonales Spiel ermöglicht – all das täuscht nicht darüber hinweg, dass, wenn du nach Jazzgitarristinnen suchst, Google dir immer den Jazzgitarristen anbietet – täuscht auch nicht darüber hinweg, dass du immer noch mehr Jazz-Sängerinnen findest als Jazz- Gitarristinnen.
Lässt auch nicht außer Acht, dass in allen von Männern dominierten Sparten Frauen es nicht eben leicht haben, sich durchzusetzen. Wenn aber wie in den Fällen Halvorson oder Mollestad ein von all dem unabhängiger Weg beschritten wird, ist die Anerkennung ungleich höher, ja, sie setzen sich gleich auch von allem, was vor ihnen war, ab und erzeugen neue Maßstäbe.
Hedwig Mollestad – keine Unbekannte mehr und was noch besser ist : keine, die spielt wie der oder die – wer über den ersten Überraschungsmoment hinaus ist und etwas mehr als eine Minute reinhört, wird mir, fürchte ich, nicht mehr widersprechen wollen. Das ist schon jetzt ein eigener Stil und dazu noch souverän, virtuos, kraftvoll – um es klar und deutlich zu sagen: Wow! (Kann mir die Genre-Schubladen schenken)
Hedvig Mollestad Thomassen – guitar
Ellen Brekken – bass
Ivar Loe Bjørnstad – drums
Hedwig Mollestad Ekhidna – from Norway
Diskografie
Shoot! (Rune Grammofon 2011)
Jon Eberson Group The Coarse Sand & The Names We Wrote (JEG Records 2011)
El Doom & The Born Electric (Rune Grammofon 2012, mit Brynjar Takle Ohr, Håvard Takle Ohr, Ole Petter Andreassen, Morten Lunde, Nikolai Hængsle Eilertsen sowie Jon Eberson, Ståle Storløkken, Mikael Lindquist und Hilde Marie Kjersem)
All of Them Witches (Rune Grammofon 2013)
Enfant Terrible! (Rune Grammofon 2014)
Evil In Oslo, 2016
Black Stabat Mater, 2016
Smells funny, 2018
Hedwig Mollestad auf Wikipedia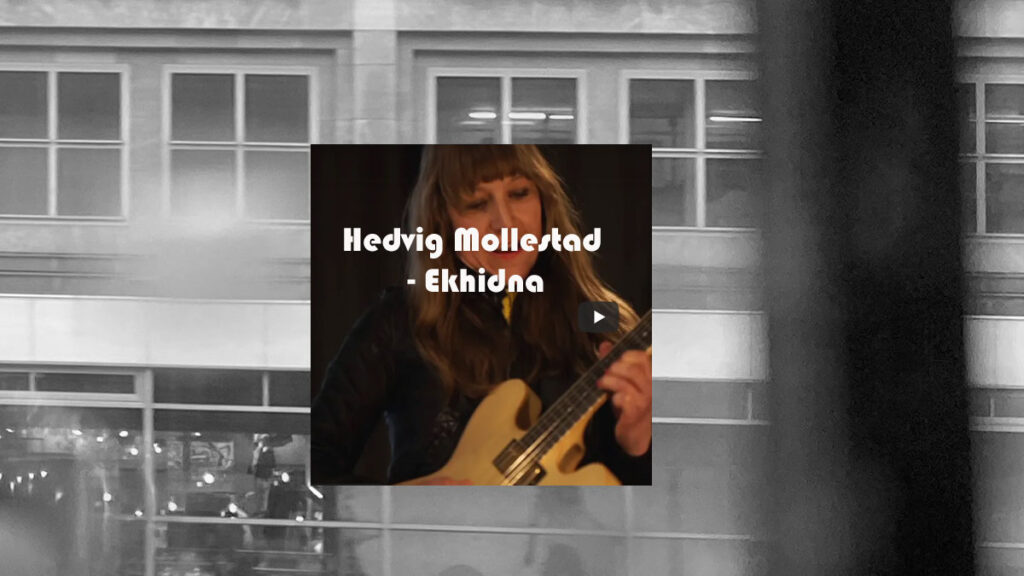 Gerne verlinke ich auch auf meine Berlin Abteilung A-Z. Eine alphabetische Aufstellung vieler Musikerinnen und Musiker aus Berlin. Sicher nicht vollständig, ein Anfang aber ist gemacht.