Hugo Fernandez Cosmogram Naualli –
Hugo Fernandez
Cosmogram
---
Hugo Fernández Gitarrist und Komponist aus Mexiko-Stadt (Mit Sitz in Berlin) bietet Musik, die auf kreative Weise das Jazzerbe mit verschiedenen Musikrichtungen verbindet und uns einen frischen und persönlichen Klang verleiht.
Hugo Fernandez (g), Ariel Bringuez (sax), Ander Garcia (b), Mariano Steimberg (dr), Antonio Miguel (b), Antonio Sanchez (dr), Julian Sanchez (tp), Tomas Merlo (b), Marc Miralta (dr)
Zitat: "A creative mix of jazz, rock and folk music" The sound of his quartet will take us away from jazz at some spots, leading naturally to unexpected places. His albums and live performances have been praised by the specialized media such as: Rolling Stone Magazine, Downbeat Magazine, Jazztimes or "El Pais" newspaper."
Die Aufnahme Cosmogram ist geprägt vom Ineinanderfließen der Harmonien von Bass und Gitarre mit dem Solobestreben des Saxophon, Schlagzeug und Bass bereiten dabei den Teppich. Ein warmer Sound, ein feines Timing, mit vielen Überraschungen und Wendungen. Sie wurde von der Öffentlichkeit gut aufgenommen, im Downbeat hieß es: "Die Darbietungen entwickeln sich in unerwartete Richtungen, die Episoden wirken wie Mini-Suiten"
Die Aufnahme Naualli fügt sich dem nahtlos an und setzt mit der Trompete von Julian Sanchez auf eine Erweiterung der Dialogmöglichkeiten und Interaktionen zwischen den Beteiligten. Auffällig ist das feinsinnige Accordspiel von Hugo Fernandez, das nicht selten fast unbemerkt in Solophrasierung übergeht.
Hugo Fernandez nennt Berlin seine Wahlheimat, nachdem er viele Jahre in Spanien lebte, geboren ist er in Mexiko. Auftritte hatte er auf dem Festival de Jazz de Madrid, Circulo de Bellas Artes Madrid, Festival de Jazz de Granada u.a.
Es liegen drei Alben vor (Stand 2018). Das Album "Cosmogram" mit Antonio Sánchez am Schlagzeug wurde vom Downbeat mit höchsten Auszeichnungen versehen. Sein Debütalbum "Origenes" führte ihn nach Mexiko Stadt zur Eröffnung der Reihe "Por lo tanto Jazz" im Palacio de Bellas Artes. Mit seinem jüngsten Album "Naualli" trat er beim "Festival Internacional Cervantino" (dem renommiertesten Festival Lateinamerikas) auf.
Hugo Fernandez Naualli Cosmogram Origin Records CD "Cosmogram"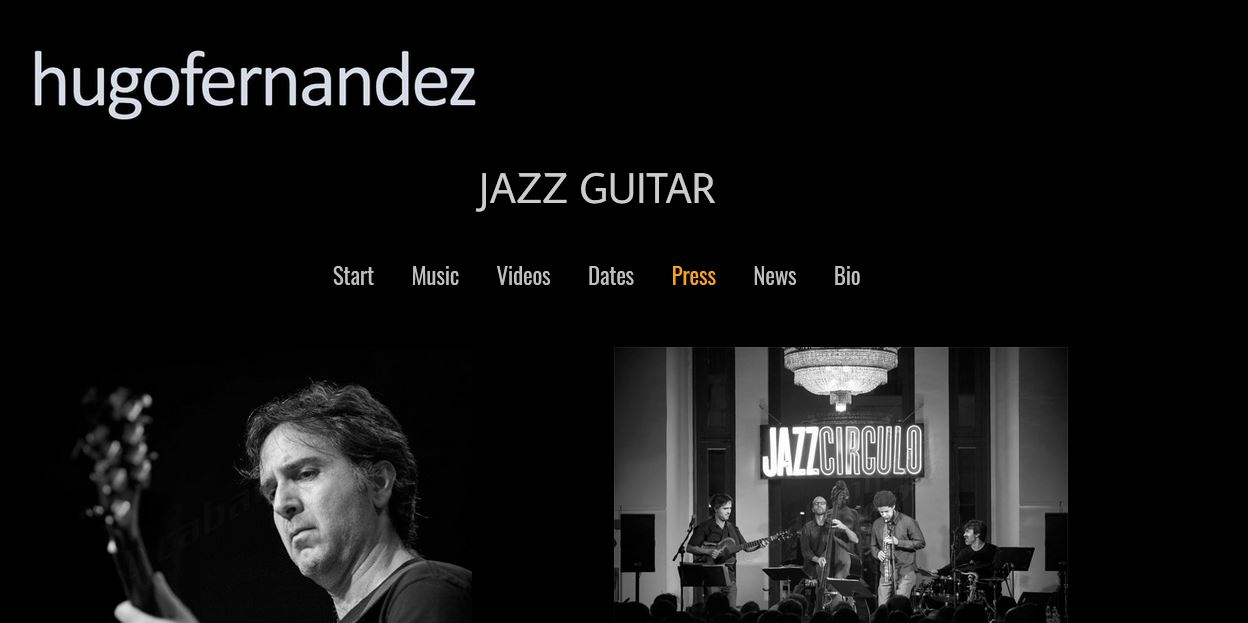 Origenes 2013
"This is original, This is fresh, This caught me by surprise" – JazzTimes
Hugo Fernandez – seven string guitar
Ariel Bringuez – saxophones
Ander Garcia – double bass
Mariano Steimberg – drums
Naualli 2018
"Armed with creative compositions and a band of first-call musicians to interpret his provocative sound, Cosmogram is a serious recording deserving of attention" – All About Jazz
Hugo Fernandez – Guitar and Compositions
Julian Sanchez – Trumpet
Ariel Bringuez – Soprano and Tenor Saxophones
Tomas Merlo – Fretless Bass
Marc Miralta – Drums
Cosmogram 2015
"Catchy and inventive, many of the performances develop in unexpected directions" – Downbeat Magazine
Ariel Bringuez – Tenor & Soprano saxophone
Hugo Fernandez – Guitar
Antonio Miguel – Acoustic Bass
Antonio Sanchez – Drums
Recorded by Pablo Baselga at Infinity Records, Madrid, Spain.

"Metro live at Jimmy Glass" www.youtube.com/watch?v=bsu90lS1vPk


Gerne verlinke ich auch auf meine Berlin Abteilung A-Z. Eine alphabetische Aufstellung vieler Musikerinnen und Musiker aus Berlin. Sicher nicht vollständig, ein Anfang aber ist gemacht.