Trio kleine Hoffnung Laniakea 2020 – auf Bandcamp
Carl Morgan (g), Sam Anning (b) and Raj Jayaweera (dr).
released January 10, 2020
from Bandcamp: All raised in Australia, the members currently live in different parts of the world – Morgan in Berlin, Jayaweera in New York and Anning in Melbourne. It was only until an act of serendipity in 2019 brought them together in Berlin together. The trio spent a week in Morgan's studio jamming, in between sessions of eating, drinking, and debating at the local Imren Grill. The music captures their informal spirit and yet enshrines the seriousness and dedication to their art.
Trio kleine Hoffnung Laniakea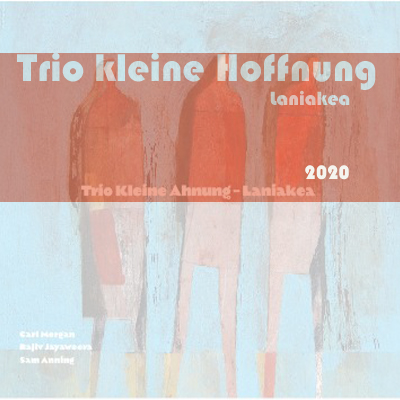 Gerne verlinke ich auch auf meine Berlin Abteilung A-Z. Eine alphabetische Aufstellung vieler Musikerinnen und Musiker aus Berlin. Sicher nicht vollständig, ein Anfang aber ist gemacht.