new albums on jazzweek chart 14th Oct 2022
Aimée Allen (voc), Gregory Tardy (sax), Bobby Watson (sax), Julian Lage (g) JD ALLEN (sax), placed on 14th October 2022
Aimée Allen
Aimée Allen – vocals
Toru Dodo – piano
François Moutin – bass
Kush Abadey – drums
Tony Romano – guitar (track 2)
Noah Allen – trumpet (track 4)
Live at The Detroit Jazz Festival
A driving, energetic rendition of "Little Sunflower" kicks off the album with a note of hope. We are then reminded in the provocative and penetrating "Earth is Waiting" that hope alone is not enough to address climate change; action is required.
"Quantum Entanglements" is a grounded and soaring meditation on how we (like the referenced phenomenon of quantum physics) can remain connected and yet be flexible and free. The lush and faithful Chick Corea medley of "Crystal Silence / 500 Miles High" pays fitting tribute to the icon, shimmering with reverence. "Star Eyes" is delivered here as never heard before, in large part as a voice and drum duo with a playful wink and nod, and the band swelling in at the refrain.
"Love's Crescendo" takes universal love seriously, in a soulful, sensuous groove. "Reaction Time" switches gears to a bold, hyper-dynamic drum and bass beat, accompanied by a suggestive lyric. "Mortally Immortal" revisits Mozart's Requiem as a jazz-infused mass for those lost to Covid, with a lyric meeting our experience. "The Comet's Tail" speaks to the fleeting and unpredictable nature of the exceptional. "Man Ripples Through Time" is a solemn protest and dirge that testifies to the extraordinary legacy of an ordinary man. "Hidden Place" is a compact, bluesy rage of comeuppance. "Worlds Collide" presents the age-old story of two becoming one as an ethereal, achingly beautiful affair of the cosmos.
Text: Aimée Allen Bandcamp
Gregory Tardy
Sufficient Grace
Gregory Tardy – Tenor Saxophone, Bass Clarinet and Clarinet
Marcus Printup – Trumpet
Keith Brown – Piano
Sean Conley – Bass
WillieJones III – Drums
Offering a beacon of hope in a world of socio-spiritual challenges, "Sufficient Grace" is Tardy's latest artistic vehicle taking the listeners on a journey laced with reflection and healing.
released September 16, 2022
Bobby Watson
Back Home in Kansas City
Bobby Watson, saxophones
Jeremy Pelt, trumpet
Cyrus Chestnut, piano
Curtis Lundy, bass
Victor Jones, drums
Carmen Lundy, vocals
SAXOPHONIST/COMPOSER BOBBY WATSON DRAWS INSPIRATION from the rich jazz heritage of his Kansas City hometown on his spirited album Back Home in Kansas City. It features an all-star quintet with trumpeter Jeremy Pelt, pianist Cyrus Chestnut, bassist Curtis Lundy and drummer Victor Jones, with a guest appearance by singer Carmen Lundy.
Text: Smoke Sessions
Julian Lage
View with a Room
This time Lage expands his versatile trio with bassist Jorge Roeder and drummer Dave King into a quartet with the addition of fellow guitarist and Blue Note labelmate Bill Frisell.
Label: Blue Note
Guitarist Julian Lage expands his horizons on View With A Room, a collection of 10 compelling original compositions that marks his second release for Blue Note Records. Having established a home base with his brilliant and deeply attuned trio of bassist Jorge Roeder and drummer Dave King—most recently heard on the guitarist's acclaimed 2021 Blue Note debut Squint—Lage casts his gaze outward to discover new orchestrational possibilities with the addition of six-string icon Bill Frisell, who adds his inimitable voice to this absolutely stunning album. Text: BLUE NOTE
JD ALLEN
Americana vol 2
JD Allen – tenor saxophone
Charlie Hunter – guitar (except tracks 6-8)
Gregg August – bass
Rudy Royston – drums
Label: Savant Records | on Soundcloud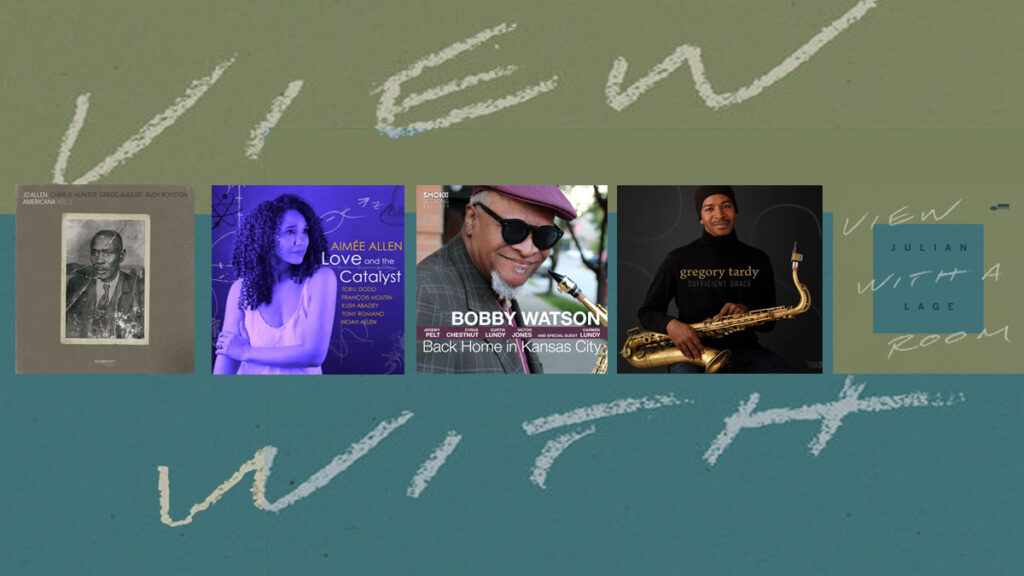 new albums on jazzweek chart 14th Oct JazzWeek Chart
"Jazzweek-Charts – vom 7. Oktober 2022 "
new albums on jazzweek chart : Reviews : verhoovensjazz new albums on jazzweek chart