new albums on jazzweek chart 21th Oct 2022
new albums on jazzweek chart 21th Oct 2022
Richard Baratta (dr), Nica Carrington (voc), Arturo Sandoval (tp), Robben Ford(g) Bill Evans (sax), Cosmic Latte (band) placed on 14th October 2022
Richard Baratta
Richard Baratta – drums, percussion
Bill O'Connell – piano, arranger
Vincent Herring – alto saxphone
Paul Bollenback – guitar
Michael Goetz – upright bass
Paul Rossman – congas, percussion
Music in Film: The Sequel
Richard Baratta was born into a musically oriented family in Poughkeepsie, NY in 1950. He began his musical journey at the age 12, playing saxophone, flute and drums, and eventually, exclusively drums.
He played mostly jazz all through his teens. After earning a BA in History from Wagner College in 1973, and after studying with Jack DeJohnette, Bob Moses and Steve Haas he moved to NYC in 1975 to pursue his musical career. From 1975 to 1984 Baratta played gigs and recorded in and out of NYC. Some of his bandmates and associations were with John Stubblefield, Joe Ford, Frank Strozier, Hal Galper, Mike Richmond, Saheb Sarbib, Dennis Irwin, Vernon Reid, Billy Bang, Jack Wilkens, Ryo Kawasaki, Jessica Hagedorn and the Gangster Choir, Guilherme Franco, Pe De Boi, Cyro Baptista, and a very memorable one day hit with Hank Mobley and then Johnny Hartman.
Text: Richard Baratta Website
Nica Carrington
Times Like These
Nica Carrington – vocals
John Proulx – piano
Chuck Berghofer – bass
Joe La Barbera – drums
I've dabbled at singing throughout my life, picking it up then putting it down to"do life." I was largely non-committal to my vocal craft, but it never lost its hold over me. Finally, in 2020, I got serious.
There's nothing like a global pandemic to help you put things in perspective. Text Nica Carrington Website
Arturo Sandoval
Rythm & Soul
Arturo Sandoval – trumpet
Maxwell Haymer – piano
Maximilian Gerl – bass
William Brahm – guitar
Michael Tucker – saxophone
Danial Feldman – percussion
Mark Walker – drums
Tunes from AMAZON Jazz Chart – außer der Reihe
Bill Evans Robben Ford
Common Ground
Robben Ford – guitar
Bill Evans – saxophone
Darryl Jones – bass
Keith Carlock – drums
Clifford Carter – organ, piano
Max Mutzke – vocal
Label: MPS
Review : Jazz-Fun
aus Hamburg:
Cosmic Latte
Trapezia
Ruben Roeh – guitar
Burkard Ruppaner – drums
Tim Steiner – bass
Label: s.u. Bandcamp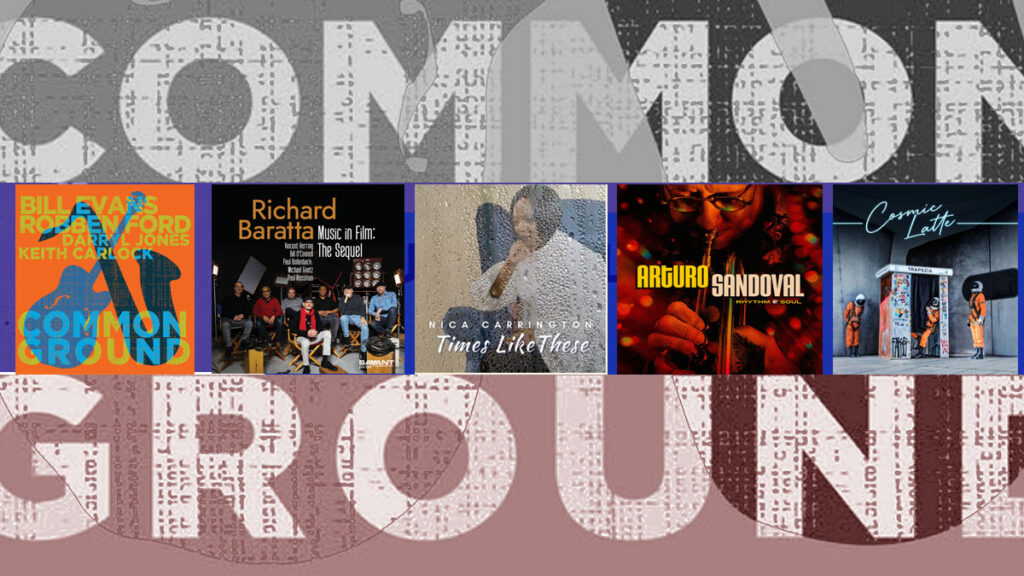 new albums on jazzweek chart 21th Oct 2022 JazzWeek Chart
"Jazzweek-Charts – vom 21. Oktober 2022 "
new albums on jazzweek chart : Reviews : verhoovensjazz new albums on jazzweek chart