XJazz Berlin 2022 Programm vom 03.05-08.05 2022
In 2014 initiiert, etabliert sich in Berlin ein Festival, das im Mai auf engem Raum in Kreuzberger Umgebung einmal mehr unter Beweis stellt, dass Jazz nicht nur für akademische Zirkel oder ausgesuchte Generationen ist, sondern beweist ebenso, dass Jazz überhaupt nicht tot ist, im Gegenteil, es schwappt nun einiges davon aus London direkt in die Kreuzberger Straßen, in die Emmaus Kirche, ins Lido, in den Festsaal Kreuzberg: eine Musik, die sich allen Klischees widersetzt und ständig innovativ und erneuernd immer wieder neues Publikum findet.
Genreübergreifend und hip, wie der Tagesspiegel 2015 anmerkte. Diese Festivals schert sich nicht um Grenzen und Konventionen, das Programm umfasst Jazzmusik ebenso wie elektronisch improvisierte Musik, heißt es bei Jazzthing 2015. Die Spielstätten sind untereinander überwiegend fußläufig erreichbar, im Zentrum die Emmauskirche am Lausitzer Platz. Die Veranstaltungsorte sind: Emmauskirche, Lido, Fluxbau, Privatclub, Orania, Monarch, Prince Charles, Festsaal Kreuzberg, ÆDEN, Blueboat, Circus Schatzinsel.
Stolz kann Xjazz nun für 2022 verkünden:
SEIT SEINER GRÜNDUNG IM JAHR 2014, DIE DIE DEUTSCHE JAZZSZENE AUF DEN KOPF STELLTE, IST DAS XJAZZ! FESTIVAL DAFÜR BEKANNT, FÜR AUFSEHEN ZU SORGEN. GEBOREN AUS DEM UNABHÄNGIGEN UND BASISDEMOKRATISCHEN WUNSCH, MIT KONVENTIONEN ZU BRECHEN, BIETET DAS FESTIVAL SOWOHL ETABLIERTEN ALS AUCH WENIGER BEKANNTEN KÜNSTLERINNEN EINE PLATTFORM, UM SICH OHNE EINSCHRÄNKUNGEN AUSZUDRÜCKEN, STILE ZU VERSCHMELZEN UND DIE DEFINITION VON "JAZZ" AUF EINE VIEL BREITERE UND AUFREGENDERE LANDSCHAFT AUSZUDEHNEN, ALS DIES TRADITIONELL ERLAUBT IST.
SEE YOU IN MAY !
Das ist nun in wenigen Tagen. Ein Programm, das sich sehen lassen kann!

Mit Emma-Jean Thackray, Lady Blackbird, Theo Croker, Nubya Garcia, Angel Bat Dawid, Pip Millett, Avishai Cohen, Alabaster Deplume, José James, Shai Maestro Quartet, Avishai Cohen, Kit Downes
… und viele Andere: Rolf Kühn&Sternal&Studnitzky&Manz // Leléka | FRAMED @ XJAZZ! with Stimulus & To the Fullest, Gnawa Jazz Trio and Video Art Exhibition from AJ Johnson | EXPRESSIONS: The opening ceremony by Cycles Collective with The Cycles Ensemble, Mulay & Band and Moses Yoofee & Àbáse & Ziggy Zeitgeist | Salomea | The KBCS | Seifert Night: Monika Borzym & friends feat. Kacper Smolinski
! Was ein Programm ! XJazz Berlin 2022
… viele andere mehr: TAU5 | Wanubalé | Sissi Rada | Pip Millett | ENSEMBLE X (Berlin-Barcelona) | CKTRL | Uri Gincel Trio| Chassol (Support: Turista Per Sempre) | Seifert Night: EABS | Nu Genea Live Band (Special Opening Act: Mop Mop) | Timo Lassy Trio | Lukas Akintaya HUES | May The Muse | BIGAMO Nacht feat. Keope, Al Pagoda und Special Guests | Coladera | Hang Em High | Rosie Frater-Taylor | Natalie Greffel | SoKo Steidle + Alexander von Schlippenbach |
Playlist auf Spotify: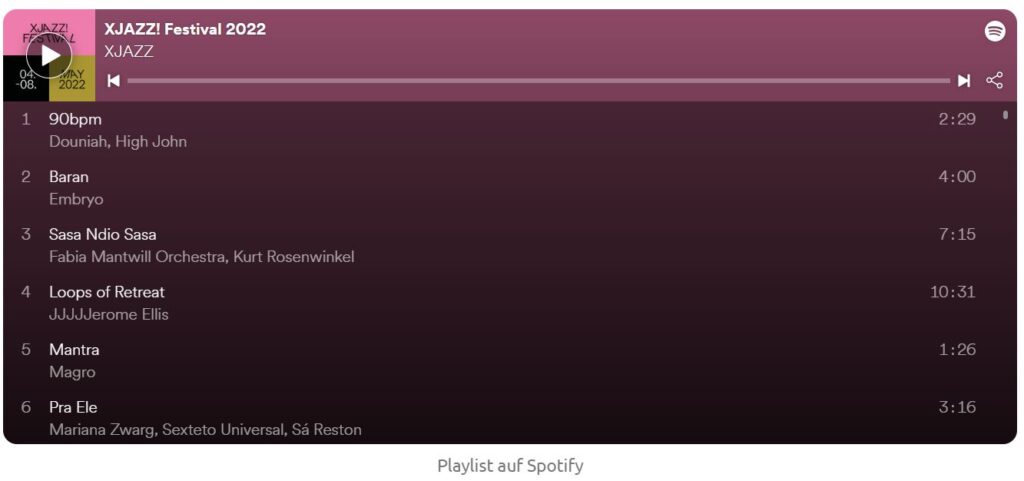 … viele andere mehr:
DJ Amir presents Jazzanova (live): Celebrating Strata Records | HELICON feat. Olga Amalchenko| Pedro Martins | Magro | Fazer | Stimming x Lambert (live) | Douniah | Mariana Zwarg Sexteto Universal | SUPER SILENT NIGHT with Hekla ,Tunglleysa, TEN KA | XJAZZ! Night with Triorität (live), Bruxas (live), Rebecca Vasmant (DJ) & DJ Daniel W. Best | Jembaa Groove | Ashraf Sharif Khan & Viktor Marek | Evîn | Amaro Freitas | Dumama: Bottom of the Blue |
Playlist TIDAL

… viele andere mehr:
Linda Fredriksson Juniper | YĪN YĪN | Melanie Charles | Kalle Kalima | Alma Naidu | Aron Ottignon Trio | Leona Berlin | Embryo | Rebecca Vasmant Ensemble | Compagni di Merende (Otis Sandsjö & Niklas Wandt) | Rosemarine | Pascal Schumacher | ZUR SCHÖNEN AUSSICHT feat. SERA KALO & MYKA 9 | Tyroneisaacstuart | The Jakob Manz Project | Kryptox Session with Z*F*E*X, Joel Homes Band, Dimitra Zina (DJ), Tina Edward (DJ) and Delfonic & Kapote | XJAZZ! KIDS: Die Fabelhafte Zauberwelt // The Nonames (Free Entrance) | Fabia Mantwill | Slavin/Dell/Summer/Merk | Monika Werkstatt | Card 100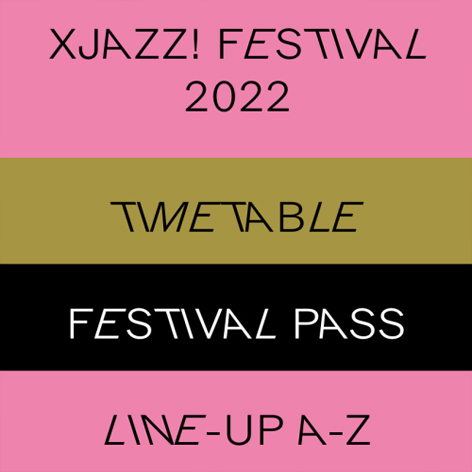 ! Eine Must To Go Veranstaltung bei dem Angebot !
Pressreleases : Jazzthing | Londonjazznews XJazz Berlin 2022 Programm