Fats Waller Honeysuckle Rose
Fats Waller Honeysuckle Rose
The Great American Songbook Fats Waller Honeysuckle Rose (1928/29) Wikipedia (english) | Wikipedia (de)
Fats Waller Composer – Andy Razaf Lyrics from 1928
Zu Honeysuckle Rose gibt es ein Überangebot an Artikeln im Netz, ich beschränke mich auf die ersten Augenfälligkeiten, erster Hinweis: Die Mehrdeutigkeit des Textes. Honeysuckle Rose – das ist schon mal kaum übersetzbar: Honig plus Saugen plus Rose, wäre schlichtweg Honig saugende Rose – wohl kaum.
Übersetzungen gibt es in Fülle: Every honeybee fills with jealousy | Jede Honigbiene erfüllt die Eifersucht (…) My honeysuckle rose | Meine Honigblumen Rose oder | meine Heckenkirsche oder | meine Nuckelrose.
Goodness knows You're my honeysucklerose. Das darf man wohl nicht zu eng sehen, das Gute weiß, du bist meine Honig saugende Rose. Oh, Süße Nuckelrose. So viel Bekundung einer süßen Blütenliebe. Sich selbst liebende und saugende Rosenblüte?
Du kannst mehrere Interpreten und Interpretinnen durchhören, kaum jemand hält sich an den Text – Hauptsache Honeysuckle Rose. Der Endreim, in jeder Zeile: Lealousy – Me | Knows – Rose | Sigh – Why | Knows Rose | gebrochen durch den Wechsel Sugar Cup Sugar Up | wieder Lips – Drips | Knows Rose | Sugar Cup Sugar Up – das mach mal im Deutschen, du gehst nicht etwa als Wortzauber über die Bühne, sondern als Laienspiel des Endreims. Plus Beat.
Honeysuckle Rose wird, wo du reinhörst, Up-Beat gespielt, in hohem Tempo, und ab geht's, ob nun Keith Jarrett, Ella Fitzgerald (sie versucht die Band sogar etwas einzubremsen) oder Thelonious Monk, ja, erst recht bei Emmet Cohen mit Luca Filastro – da wird es ein Ragtime mit Höchstgeschwindigkeit, spaßig, eine einzige Übertreibung im Foxtrott. Das Original, scheinbar das, was auf Youtube vorliegt, ist etwas bescheidener, ist sich seiner Sache aber ziemlich sicher. Das muss ankommen. Das kann und muss man feiern:
Don't buy sugar you just have to touch my cup

In leichter Abwandlung hört es sich bei Holly Cole so an:

You're my sugar, you just have to fill my cup.

(in der Tidal Playlist nachzuhören Holly Cole Trio, Blame ist on my Youth)
Fürs erste lassen sich vielleicht zehn Exemplare "mitnehmen", bald hast du die Melodie im Kopf und wirst sie nicht mehr los. Auch kommen dir Aufnahmen unter, die machen aus einem Up-Beat einen relativen Aufguss, das Unverkennbare der Melodie stellt bald jeden vor eine Frage: kann man das, was Keith Jarrett mit Peacock und DeJohnette unternommen haben, überhaupt noch toppen, oder macht man es inzwischen nur des Spaßes wegen.
When you're passin' by, flowers droop and sigh
And I know the reason why

Goodness knows
You're my honeysuckle rose
Den Text über den eines 32 Bar Kabaretts (AABA) hinausheben, würde jetzt nicht mehr weit führen, so der Verdacht, die Liner Notes sind im Bienenhonig abgesunken – der Beat aber: die schwungvolle Melodie erfordert etwas Geschicklichkeit. Die harmonische Progression ist weder ungewöhnlich noch schwierig, sie geht meistens von II – V7 oder II – V7 – I. Die harmonische Progression ist eine Variation aus "Yes Sir, That's My Baby", "Cloudburst" oder "On the Sunny Side of the Street". Nachzulesen hier jazzstandards.com.
Kleine Raffinessen aber machen es dann wieder dynamisch: Die Melodie steigt stufenweise an, demnach bietet es sich an, die Basslinie in entgegengesetzter Richtung, also abwärts laufen zu lassen, da sonst die gleiche Linie in der Melodie und in der Basslinie erfolgen würde, was über parallele Oktaven schnellst wahrscheinlich Langeweile hervorrufen würde. Es sei denn, du heißt Marlene Dietrich und lässt das ganze Ding untergehen. (Hörbeispiel Dietrich in der Tidal Playlist s.u.)
fats waller youtube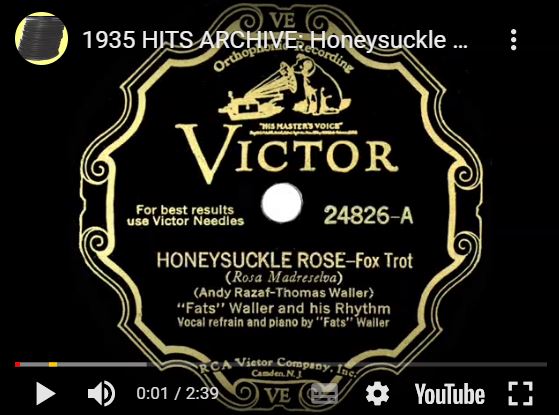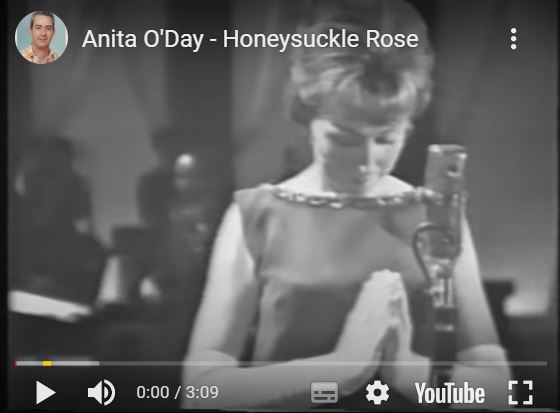 Ist der Song erst im Ohr … kannst du recherchieren … auf jazzstandards.com erfahren wir, dass Honeysuckle Rose zeitgleich entstand mit Ain't Misbehavin für die Musical-Revue Hot Chocolats – vorgestellt wurde der Song im Connie's Inn, eine Harlemer Kneipe, in der Lieder- und Tanzrevuen aufgeführt wurden.
Es befand sich an der Kreuzung von 131st Street und 7th Avenue und war nach dem Cotton Club das zweitbeliebteste Lokal in Harlem.
Die Besitzer öffneten den ursprünglich segregierten Club schließlich auch für Schwarze, die den Club besuchen durften, nachdem die Weißen nach Hause gegangen waren. Fats Waller befand sich im Connie's Inn in guter Gesellschaft, zumindest was die anderen Künstler anging, zu denen Duke Ellington, Fletcher Henderson und Ethel Waters gehörten.

jazzstandards.com
Empfohlene Hörbeispiele: Fats Waller – The very Best of Fats Waller, Fletscher Henderson – Fletscher Henderson Story, Thelonious Monk – The Unique Thelonious Monk, Benny Carter – Further Definitions, Nat King Cole Nat King Cole Trio, Louis Armstrong – Satch plays Fats, Sarah Vaughan – At Mister Kelly's, Pearl Django – Avalon, Django Reinhardt – All Star Sessions, Errol Garner Body and Soul
Great American Songbook – Fats Waller Honeysuckle Rose
Nat Adderley | Modern Jazz Quartet | Amy Winehouse
Mildred Bailey 1929 in Paul Whitemans Old Gold Show, McKinney's Cotton Pickers 1930 und Frankie Trumbauer 1931 Red Norvo 1935, Count Basie & His Orchestra wahrscheinlich 1937, Benny Goodman Live at Carnegie Hall 1938
Zitat Wikipedia: Die Mehrdeutigkeit des Songtextes wurde von Entertainern "immer wieder in publikumswirksame Komik umgesetzt – oft als parodistisches Liebes-Duett". So haben Louis Jordan, Louis Armstrong, Slim Gaillard, Joe Carroll, aber auch Fats Waller selbst mit dem Witz des Songs gespielt. Dagegen hat Ella Fitzgerald "durch flotte Scats von der Frivolität des Textes eher abgelenkt.
Charlie Christian, Original wahrscheinlich 1939, Art Tatum & Chittison Tea for Two wahrscheinlich 1951, Boris Vian JSuis snob 1954, Lionel Hampton Paris Session 1956, Bob Brookmeyer, Bill Evans The Ivory Hunter 1959
Sarah Vaughan Sassy Swigs The Tivoli 1963, Oscar Peterson, Stephane Grapelli – Skol – Live at The Tivoli Gardens 1979, Rebecka Törnqcist – The Stockholm Kaza Session 1996,
Coleman Hawkins – Abdullah Ibrahim – Uri Caine – Marlene Dietrich – Ray Brown – John Carters
Anita O'Day Anita O' Day's Finest Hour 2000, Patti Austin For Ella 2002, Hot Club of Detroit – Hot Club of Detroit 2006, The Time Jumpers Jumpin' Time 2007, Jose Gonzales Trio – Jose Gonzales Trio 2009, Rodney Kendrick The Colors of Rythm 2014
Jools Holland, Jose Feliciano – As You see me Now 2017, Fola Dada Live at Elbphilharmonie Hamburg 2018,
Ella Fitzgerald Ella At Juan-Les Pins 1964 | Fats Waller Honeysuckle Rose
Wikipedia
Joe Pass – Oscar Peterson A La Salle Pleyel 1998 | Fats Waller Honeysuckle Rose
Wikipedia
Holy Cole– Blame it on my Youth 1992) | Fats Waller Honeysuckle Rose
Wikipedia
Emmet Cohen – Dirty in Detroit – 2018 – Fats Waller Honeysuckle Rose
Downbeat Review
Keith Jarrett 2007 My foolish Heart Live at Montreux Fats Waller Honeysuckle Rose
Wikipedia

Honeysuckle Rose Fats Waller – Great American Songbook
Great American Songbook Honeysuckle Rose Fats Waller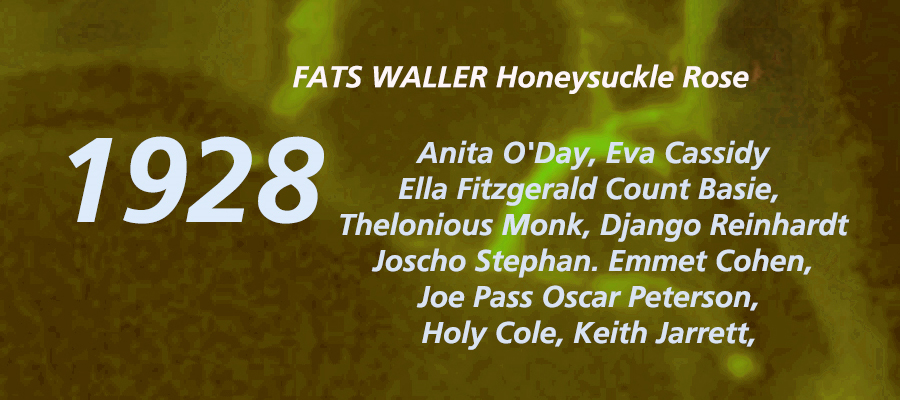 English Version
There is an overabundance of articles on the net about Honeysuckle Rose, I limit myself to the first eye-catchers, first hint: The ambiguity of the text. Honeysuckle Rose – that is hardly translatable: honey plus sucking plus rose, would be simply honey sucking rose – hardly.
Translations abound: Every honeybee fills with jealousy (…) Jede Honigbiene erfüllt die Eifersucht | my honeysuckle rose. Meine Nuckelrose
Goodness knows You're my honeysucklerose. I guess you can't take that too narrowly, Goodness knows You're my honey sucking rose. Oh, sweetness sucking rose. So much professing of a sweet blossom love. Self-loving and sucking rose blossom?
You can listen through several performers, hardly anyone sticks to the lyrics – the main thing is Honeysuckle Rose. The end rhyme, in every line: Lealousy – Me | Knows – Rose | Sigh – Why | Knows Rose | broken by the change Sugar Cup Sugar Up | again Lips – Drips | Knows Rose | Sugar Cup Sugar Up – do that in German, you don't go over as word magic, but as an amateur play of the end rhyme. Plus beat.
Honeysuckle Rose is played, where you listen in, up-beat, in high tempo, and off it goes, whether Keith Jarrett, Ella Fitzgerald (she even tries to slow the band down a bit) or Thelonious Monk, yes, even more so with Emmet Cohen with Luca Filastro – there it becomes a ragtime at top speed, fun, a single exaggeration in the foxtrot. The original, apparently what's on Youtube, is a bit more modest, but is pretty sure of itself. That must arrive. That can and must be celebrated:
Don't buy sugar you just have to touch my cup
In a slight variation, Holly Cole makes it sound like this:
You're my sugar, you just have to fill my cup.
(listen to it in the Tidal Playlist Holly Cole Trio, Blame is on my Youth)
For the first ten copies you might "take along", soon you have the melody in your head and can't get rid of it. You'll also come across recordings that turn an up-beat into a relative rehash, the unmistakability of the melody soon confronts everyone with a question: is it even possible to top what Keith Jarrett did with Peacock and DeJohnette, or is it now just done for the fun of it?
When you're passin' by, flowers droop and sigh
And I know the reason why
Goodness knows
You're my honeysuckle rose
Lifting the lyrics above that of a 32 bar cabaret (AABA) wouldn't go far now, so the suspicion is, the liner notes have sunk into the bee's honey – the beat though: the swinging melody requires some skill. The harmonic progression is neither unusual nor difficult, going mostly from II – V7 or II – V7 – I. The harmonic progression is a variation from "Yes Sir, That's My Baby", "Cloudburst" or "On the Sunny Side of the Street". To be read here jazzstandards.com
Have a look for: