Gus Arnheim Sweet and Lovely
Gus Arnheim Sweet and Lovely 1931 Wikipedia (english)|
Gus Arnheim, Charles N. Daniels Composer Harry Tobias Lyrics
Sweet and Lovely – die Nummer wird schwierig, Sam. Die Leute erwarten Besonderes, Ausgefallenes und doch muss es so klingen, dass sie es verstehen, die Nummer ist nicht zu leisten, Sam. Sie erwarten, dass du ihnen gefällst. Thelonious Monk: Dann spiel es einfach anders, spiel es falsch und das richtig. Ich bin so frei. Die Leute beäugen sich. Sie beurteilen anderes nach ihrem Geschmack. Der ist nicht Maßstab sondern Gehalt. Ich wünsche mir etwas, was nicht zu wünschen war. Das Spiel im Trio, obwohl es Posaune war. Oder Gitarre. Oder Klavier.
Am eindrücklichsten jedoch hat sich Thelonious Monk mit dem Stück beschäftigt. (…) Hört man aber mehrere solche Versionen hintereinander, so erkennt man, dass dieser immer gleiche Ablauf unendlich vielfältig gefüllt werden kann.

Hans Jürgen Schaal Jazzstandards S. 482
Sic! Yes. Und sonst? Was sich über den Song legt, die Improvisationslage und außerharmonische Prägung durch Monk, seine freitonalen Querschläge, inzwischen für uns erwartbar – der Song ist von 1931, noch mal Sic! Hör mal, die Leute erwarten professionelle Deutungen, weil sie ihr Ohr hinhalten, schlicht gesagt: Teil eines Publikums sind, das man rüffeln, rügen, ja in Frage stellen könnte. [Weil sie sich selten die Mühe machen hinzuhören, sie hören nur das, was ihnen gefällt. Ob das stimmt?]
Thelonious Monk der Querflegel, der Publikumsbezwinger, eine andere Zeit: den Ausbruch aus den beliebigen oder bekannten Räumen suchen. Wusstest du, dass sich Monk irgendwann zurückgezogen hat. "Bubba" war müde geworden, lethargisch, apathisch. Wikipedia:
Nach 1970 verschwand Monk offenbar aus gesundheitlichen Gründen von der Bühne. Der ohnehin introvertierte Musiker zog sich mehr und mehr zurück. Er zeigte Anzeichen von Depression und hörte nach und nach mit dem Klavierspielen auf. In den letzten Jahren seines Lebens rührte er sein Instrument nicht mehr an und verfiel in Apathie. Seine letzte Aufnahme stammt aus dem Jahr 1971 (Something in Blue), seinen letzten öffentlichen Auftritt hatte er 1976.

Wikipedia Verstummen in den 70iger Jahren
Der gleiche Monk, der es seinem Label verweigerte, Beatles-Songs zu interpretieren. Der gleiche Monk, dessen Unzuverlässigkeit legendär gewesen sein soll. Der gleiche Monk, der den Song Sweet and Lovely von Gus Arnheim mehrfach interpretierte. Wir ziehen uns zwei Interpretationen zu Rate: aus dem Album Monks Dream und dem Album At Carnegie Hall mit John Coltrane. Vom gleichen Monk, der in seinen letzten Lebensjahren das Klavierspiel komplett einstellte.
Gus Arnheims Orchester war als in den 20iger 30iger Jahren beliebtestes Tanzorchester auch die Hausband im noblen Coconut Grove Nightclub von Los Angeles, der Song "Sweet and Lovely" erreichte über mehrere Wochen vordere Plätze in den Charts, die Frage nach dem Urheber der Lyrics stellt sich standards.com zwar noch, später rückt das für die Interpretationen von Thelonious Monk, Cecil Taylor oder Erroll Garner und Coleman Hawkins in den Hintergrund, da das Stück keine Vocals mehr kannte.
Für den Texter wird Harry Tobias angegeben. Gus Arnheim galt als gewiefter Geschäftsmann und schied als Songschreiber aus, die Komposition des Songs wird Charles N. Daniels zugeschreiben, in den Originalnoten mit seinem Pseudonym "Jules Lemare" angeführt. Auch das Pseudonym Neil Moret wird Daniels zugeordnet.
Zum Text so viel: Ein Mann preist die Vorzüge einer Frau an, die "süßer als die Rosen im Mai ist" – nun – there is nothing more I can say, ein Song im klassischen AABA Schema, an ihm die innovativen Harmonien zu überraschen wissen. – Sweet and Lovely – da ist so gar nichts an Provokation erkennbar oder angelegt im Song – And she loves me, there is nothing more I can say.
Gus Arnheim Sweet and Lovely * Gus Arnheim Sweet and Lovely * gus arnheim his orchestra
Suche auch:
Gus Arnheim Sweet and Lovely – Great American Songbook * arnheim and his cocoanut grove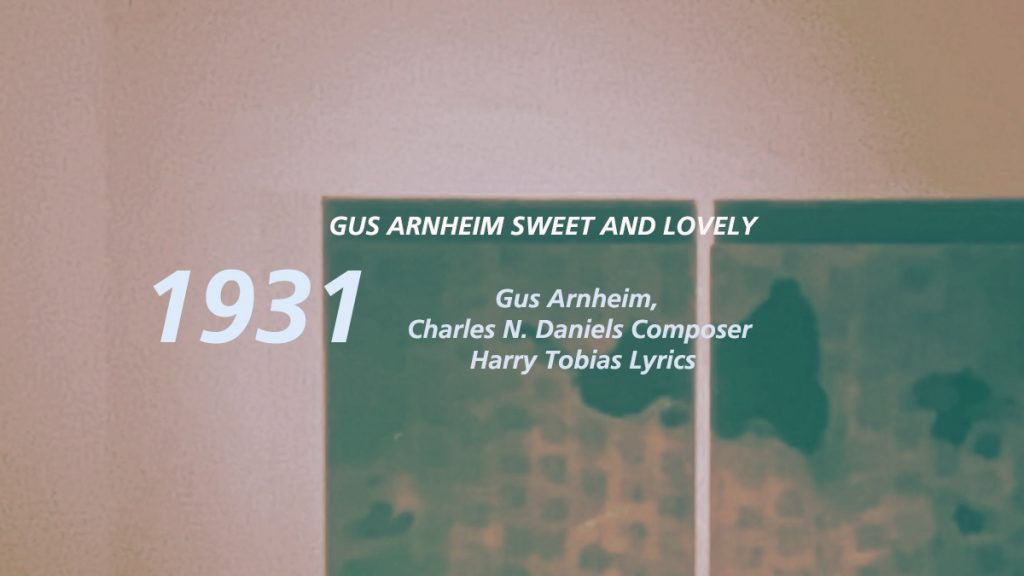 English Version
Sweet and Lovely – the number will be difficult, Sam. People expect special, fancy and yet it has to sound like they understand, the number can't be done, Sam. They expect you to please them. Thelonious Monk: Then just play it differently, play it wrong and play it right. I'm so free. People eyeball each other. They judge others according to their taste. That's not a yardstick but a content. I wish for something that was not to be wished for. Playing in a trio, although it was trombone. Or guitar. Or piano.
Thelonious Monk, however, dealt with the piece most impressively. (…) But if you listen to several such versions in a row, you realise that this always same sequence can be filled with infinite variety.
Hans Jürgen Schaal Jazzstandards S. 482
Sic! Yes. And what else? What is superimposed on the song, the improvisational layer and extra-harmonic imprint by Monk, his free-tonal ricochets, is by now expected by us – the song is from 1931, again Sic! Listen, people expect professional interpretations because they have their ear to the ground, simply put: they are part of an audience that could be rebuked, reprimanded, even questioned. [Because they rarely bother to listen, they only hear what they like. I wonder if that's true]
Thelonious Monk the cross-flapper, the audience enforcer, another time: seeking escape from arbitrary or familiar spaces. Did you know that at one point Monk retired. "Bubba" had become tired, lethargic, apathetic. Wikipedia:
After 1970, Monk apparently disappeared from the stage for health reasons. The already introverted musician withdrew more and more. He showed signs of depression and gradually stopped playing the piano. In the last years of his life, he never touched his instrument again and fell into apathy. His last recording was in 1971 (Something in Blue), and his last public appearance was in 1976.
Wikipedia Silence in the 70s Wikipedia Verstummen in den 70iger Jahren
The same Monk who refused to allow his label to interpret Beatles songs. The same Monk whose unreliability is said to have been legendary. The same Monk who interpreted the song Sweet and Lovely by Gus Arnheim several times. We consult two interpretations: from the album Monk's Dream and the album At Carnegie Hall with John Coltrane. By the same Monk, who completely stopped playing the piano in the last years of his life.
Gus Arnheim's orchestra was the most popular dance orchestra in the 1920s and also the house band in the noble Coconut Grove Nightclub in Los Angeles. The song "Sweet and Lovely" reached the top of the charts for several weeks; the question of the author of the lyrics is still posed by standards.com, but later this is pushed into the background for the interpretations of Thelonious Monk, Cecil Taylor or Erroll Garner and Coleman Hawkins, since the piece no longer had any vocals.
Harry Tobias is listed as the lyricist. Gus Arnheim was considered a shrewd businessman and dropped out as a songwriter, the composition of the song is attributed to Charles N. Daniels, listed in the original notes with his pseudonym "Jules Lemare". The pseudonym Neil Moret is also attributed to Daniels.
About the lyrics: A man extols the virtues of a woman who is "sweeter than the roses in May" – well – there is nothing more I can say, a song in the classic AABA scheme, in which the innovative harmonies know how to surprise. – Sweet and Lovely – there is nothing provocative in the song – And she loves me, there is nothing more I can say.