Sammy Cahn I Should Care
The Great American Songbook Sammy Cahn I Should Care (1944) Wikipedia (english) | Wikipedia (de)
Axel Stordahl and Paul Weston Composer – Sammy Cahn Lyrics
Um einigermaßen mitreden zu können, empfiehlt sich das Buch Jazz Standards von Hans-Jürgen Schaal (2002-) Link zum Perlentaucher – bis es geliefert ist, beschränke ich mich auf die wenigen Anhaltspunkte aus dem Netz. Die beiden Wiki Artikel zu Komponisten (einmal Axel Stordahl dann Paul Weston ) und Songschreiber (Lyricist Sammy Cahn) – auch: es gibt einen Hinweis auf jazzstandards.com – inklusive fünf Aufnahme-Empfehlungen (Thelonious Monk, Abbey Lincoln, Bill Evans, John Lewis, Jay Thomas, Hampton Hawes und Mel Torme.)
I Should Care ist deutlich tragender und langsamer als It could happen to you, und nicht sicher, ob das ein ironischer Unterton ist oder doch mehr eine Plattitüde, wenn es zu träge oder zu schwermütig vorgetragen wird, klingt es wie Barmusik ohne Ambiente, außer seiner Dunkelheit und einem Whisky – die bestmögliche, weil ambivalente und zerrissene Lesart liefert Thelonious Monk mit seiner Ballade, bei ihm ist von der Schönheit des Gegenüber kaum etwas zu hören, mehr vom Selbstzweifel und dann eben auch: der Larmoyanz des Akteurs in seinem Zaudern.
Wo die eigene Sentimentalität ihrer Schönheit gilt, er aber sich mehr sorgen müsste. Er sollte herumlaufen und weinen, er sollte nicht schlafen, aber bis auf ein zwei Träume schläft er gut.
Ja er sollte sich sorgen, und ja, er sorgt sich, ja, es berührt ihn sogar, er wird wohl niemanden so Liebes (auch übersetzbar so Schönes) finden wie sie, deswegen sollte er sich doch kümmern und sorgen, ja und dass er sich kümmert und sorgt, ist nur allzu offensichtlich. Er kümmert und sorgt sich um sein eigenes Kümmern und Sorgen. Wäre sie doch nur nicht so schön, nicht so lieb, er bräuchte sich nicht so sehr kümmern und sorgen. Eine, wenn du so willst, fast schon selbst beschämende Sicht – es wirkt sogar die Interpretation von Amy Winehouse resigniert.
Den Text über den eines 32 Bar Lovesongs (ABAC) hinausheben, würde ihn sicherlich noch einmal umgekehrt lesbar machen, bedenkt man die Zeit seiner Entstehung 1943/44 – all die Kriegsmüden, die den Verdacht äußern, sie müssten sich etwas mehr kümmern, wenigstens um ihre Nächsten, die Verwandten, ja, um die Liebsten – I should care wäre demnach durchaus aufrüttelnd gemeint, kann aber auch, so lehrt es uns jeder Text, durch sein Komplementär ergänzt und in seinem beabsichtigten Gegenteil als genauso unwahr angesehen werden.
Who cares? So what? Anything goes – es leuchtet durch. Ich sollte mich aber sorgen und kümmern, heißt eben noch nicht, dass ich mich kümmere oder sorge, außer eben: ums Sorgen und Kümmern. I Should Care And I Do …
Sammy Cahn I Should Care Frank Sinatra 1945
Wenn Sie auf das Tape klicken, stimmen sie den Nutzungsbedingungen von You Tube zu
Sammy Cahn I Should Care Jim Hall 1971
Wenn Sie auf das Tape klicken, stimmen sie den Nutzungsbedingungen von You Tube zu
I Should Care Kenny Barron 1993
Wenn Sie auf das Tape klicken, stimmen sie den Nutzungsbedingungen von You Tube zu
Ist der Song erst im Ohr … kannst du recherchieren … auf jazzstandards.com heißt es zu Thrill of Romance aus 1945, einem Musical, das Tommy Dorsey mit seinem Orchester begleitete, u.a. mit dem Song I Should Care:
Das Hochglanz-Musical Thrill of a Romance mit Esther Williams und Van Johnson in den Hauptrollen gefiel dem kriegsmüden Publikum vielleicht auch deshalb, weil es an Substanz mangelte.
I Should Care Sammy Cahn Thelonious Monk 1957
Wenn Sie auf das Tape klicken, stimmen sie den Nutzungsbedingungen von You Tube zu
I Should Care Sammy Cahn * care the sammy cahn story * should care the sammy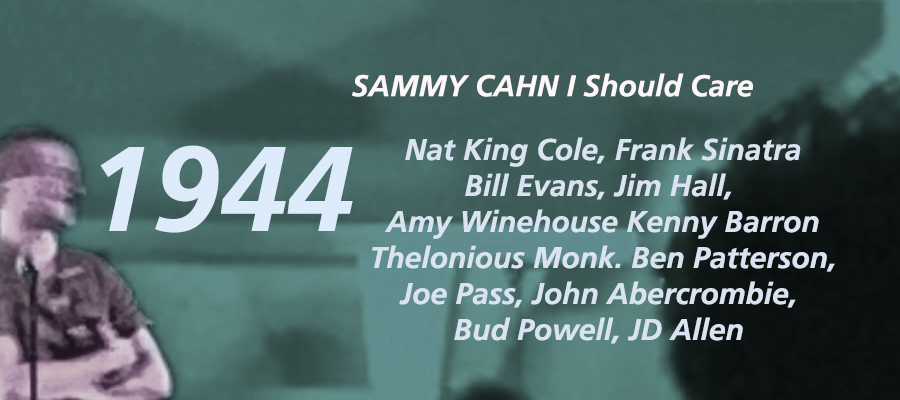 Sammy Cahn I Should Care * good shape vintage
English Version
In order to be able to talk to some extent, the book Jazz Standards by Hans-Jürgen Schaal (2002-) link to Perlentaucher is recommended – until it is delivered, I limit myself to the few clues from the net. The two Wiki articles on composers (once Axel Stordahl then Paul Weston ) and songwriters (lyricist Sammy Cahn) – also: there is a reference to jazzstandards.com – including five recording recommendations (Thelonious Monk, Abbey Lincoln, Bill Evans, John Lewis, Jay Thomas, Hampton Hawes and Mel Torme.).
I Should Care is clearly more carrying and slower than It could happen to you, and not sure if this is an ironic undertone or more of a platitude, if it is performed too sluggishly or too melancholic, it sounds like bar music without ambience, except for its darkness and a whisky – the best possible, because ambivalent and torn reading is delivered by Thelonious Monk with his ballad, with him there is hardly anything to be heard of the beauty of the counterpart, more of the self-doubt and then just: the larmoyance of the actor in his hesitation.
Where one's own sentimentality applies to her beauty, but he should care more. He should walk around and cry, he should not sleep, but except for one or two dreams he sleeps well.
Songtext –

Yes he should care, and yes he cares, yes it even touches him, he probably won't find someone as lovely (also translatable as beautiful) as her, so he should care and care, yes and that he cares and cares is all too obvious. He cares and worries about his own caring and worrying. If only she were not so beautiful, not so sweet, he would not need to care and worry so much. A, if you will, almost self-shaming view – it even makes Amy Winehouse's interpretation seem resigned.
Lifting the text above that of a 32 Bar Lovesong (ABAC) would certainly make it readable in reverse once again, considering the time of its creation in 1943/44 – all those war-weary people expressing the suspicion that they should care a little more, at least about their neighbors, relatives, yes, about their loved ones – I should care would thus be meant in a thoroughly stirring way, but can also, as every text teaches us, be supplemented by its complementary and seen as just as untrue in its intended opposite.
Who cares? So what? Anything goes – it shines through. But I should care and I do not yet mean that I care or worry, except just: to care and to worry. I Should Care And I Do …
Once the song is in your ears … you can research … jazzstandards.com says about Thrill of Romance from 1945, a musical that Tommy Dorsey accompanied with his orchestra, including the song I Should Care:
The glossy musical Thrill of a Romance, starring Esther Williams and Van Johnson, appealed to war-weary audiences perhaps because it lacked substance.
cahn story i should care * should care sheet music