Jochen Rueckert With Best Intentions
Jochen Rueckert With Best Intentions
With Best Intentions: Mark Turner (sax), Nils Wogram (tromb), Joris Roelofs (cl), Doug Weiss (b), Jochen Rueckert (dr), release Mai 12, 2023
"Jochen ist ein deutscher Jazz-Schlagzeuger, der in NYC lebt. Sein bewusster Verzicht auf eine formale Musikausbildung, wenn auch zunächst aus Kostengründen, sorgt für einen großen Mangel an gelehrtem Blödsinn in seinen Texten. Neben seinen eigenen Gruppen ist Jochen für seine jüngste Arbeit mit Fred Hersch, dem Melissa Aldana Trio, dem Marc Copland Trio, dem Kurt Rosenwinkel New Quartet von Mitte 2000 und Nils Wogram's Root 70 bekannt."
Linernotes Bandcamp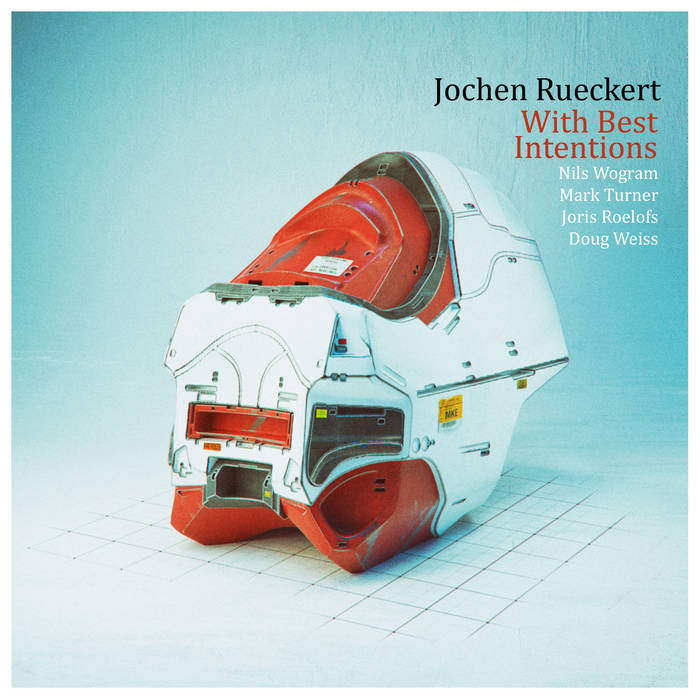 Streng genommen können wir diese Website zumachen, noch immer gelingt es uns nicht, herausragende Aufnahmen selbst ausfindig zu machen, einmal mehr sehen wir, dass gute Aufnahmen von Allaboutjazz gesichtet und besprochen werden, einmal mehr bleibt uns "nur" die Rolle des Impulsverstärkers.
Um nicht in den Verdacht zu kommen, wir würden von allaboutjazz "abschreiben", vermeiden wir vorab das nochmalige Lesen und beziehen uns auf die anderen uns vorliegenden Quellen, als da wären Website, Streamingdienste und Suchmaschinen.
Jochen Rückert (*1975), sehen wir, ist gebürtiger Kölner mit amerikanischer Staatsbürgerschaft und lebt seit 1995 in New York. Sein Debutalbum Introduction erschien 1998, mit Hayden Chisholm (*1975), Ben Monder (*1962), Kurt Rosenwinkel (*1970), Chris Potter (*1971) und Johannes Weidenmüller (*1966). Bei diesen Anbietern liegt es vor: Album. link, ein aufregendes und grundsolides Modern Jazz Album mit dem Who is Who des Jazz, zwei sind Sechziger Jahrgang, drei Siebziger. Mit 23 als Drummer schon etabliert, könnte man fragen.
Auf Bandcamp finden wir die Alben Stars and Gaters (2020) und We make Rules (2014). Auf seiner Website finden wir Hinweise auf Arbeiten unter dem Alias Wolff Parkinson White, somit hätten wir einen ersten Berg an Arbeit vor uns – uns das alles anzuhören. Nebenher die üblichen Vorbereitungsmaßnahmen wie Bild-Bearbeitung des schicken Covers – es heißt produced, mixed, mastered, and designed by Jochen Rueckert, Digital art by Mike Winkelmann/Beeple – auch wichtig und nicht selten genug beherzigt: ein gutes Coverbild schafft zusätzliche Identifikation.
Trotzdem wäre uns diese Aufnahme ohne die Berichterstattung der allaboutjazz nicht untergekommen. Deswegen ein Danke von hier nach dort, wir machen jetzt den Gettoblaster dazu.
Wer sich für Jazz interessiert, bitte: hier!
Bass und Schlagzeug eröffnen The Dress weich, Bläsersätze folgen, das sind Bassklarinette, Posaune und Saxophon, Chorus. Es darf die Klarinette Melodisches ansetzen, Bass und Schlagzeug treiben voran. Wieder Chorus. Saxophon geht ins Solo. Bass und Schlagzeug treiben. Schlusschorus.
Rainbow Road Saxophon, Schlagzeug und Bass eröffnen und schicken die Posaune ins Solo, mit Hardbeat treiben Bass und Schlagzeug voran. Saxophon übernimmt. Ein Kraftvoller Ritt über den Parkour, der schnell vorantreibt. Catholic Mahogany wird leise angestimmt durch Posaune, Saxophon und Bassklarinette, warmweich zurückhaltend und schicken die Klarinette ins Rennen, die synkopische Arbeit von Bass und Schlagzeug geben ihm ein eigenes Voran.
Damit ist die Aufnahme schon im Gewinnermodus, es bleibt bei diesen wunderbaren Bläsersätzen, wobei die Posaune einen extra warmen Sound mitgibt in Unmitigated. Sie darf sich in aller Gelassenheit mit dem Saxophon die Soli hin und herreichen. Muetze Glatze eröffnet die Bassklarinette, alles lauscht andächtig. Geht in einen Beat über, wird abgeholt von Bass und Schlagzeug, Saxophon und Posaune machen den Chorus, Bassklarinette stöhnt und ächzt, im Wechsel der Bläser erfolgen die Verbalattacken, was jetzt schon überrascht: die Stücke haben eine extrem kurzweilige Spieldauer.
Tolle Platte, tolle Musiker, Bestnote. Punkt.
With Best Intentions, das Titelstück mit eröffnender Posaune im gesungenen Bass, die Bassklarinette setzt ein und übernimmt den Rhythmus, auf dem die Posaune sich schwebend auslebt, sie wechseln die Rollen, Posaune gibt im eigenen Stakkato und Wellengang den Rhythmus vor, auf dem die Bassklarinette sich nun ebenfalls schwebend auslebt und wieder Rollentausch zurück zur Posaune im Solo. Wunderbar.
Wieder im vollen Beat auf Schlagzeug und Bass in Pherothstorium mit Chorussatz für Saxophon und Posaune, das setzt das Solo des Saxophon frei, erste Runde, zweite Runde an Posaune, Schlagzeug und Bass im Dauerlauf dazu. Geht das ab. Mitten eingespielt ein Schlagzeugsolo. Das Ganze ist so schnell vorbei wie es angefangen hat.
Double Sensotron, die getragene Nummer, Beschwerde- und Klagegüte wie das ganze Album auf bestem Weg, das Gehirn auf volle Punktzahl zu lenken auf diesem Nachtlichterpfad von Gershwin irgendwo in den Schluchten der Stadt. Das Zusammenspiel von Posaune und Bassklarinette einmal mehr: schöner geht nicht.
Mark of The Beast. Wie der Titel andeutet: es stürmen Bass und Schlagzeug los und Saxophon wie Posaune bringen die Meckie Messer Geschichte mit, das dürfen Posaune und Klarinette gleich mal ganz und gar ausgestalten. Und Chorus. Und aus. Noch Fragen? Nein, keine Fragen. Einfach auf den Knopf drücken und los, gleich noch einmal.
Die Aufnahme ist ein Glücksfall. Wer das nicht zu feiern, zu rühmen, anzupreisen und mit Bestnoten zu versehen weiß, will uns diese Aufnahme wohl nicht gönnen, man fragt sich, worauf warten sie. Wieso muss dieses herausragende Stück von Allaboutjazz und bisher nur von ihnen (Stand 14.05.) herausgestellt werden? Es handelt sich um Jazz Made in Germany und braucht sich nicht verstecken, deswegen sie es in den USA feiern, während wir hier mal wieder zu spät dran sind?
Jetzt lesen wir noch einmal allabout jazz– die 4.5 Sterne sind gern auch auf 5.0 aufzurunden. Bitte Danke ja.
Es beginnt mit: "Dieses herausragende sechste Album von Jochen Rueckert …" : wir lesen von Achtelsubstanz und einem Joris Roelofs, der mehr Beachtung verdient hat, von Schönheit und Spannung und von einem glänzenden Schlagzeuger Jonas Rueckert und sind voll umfänglich einverstanden. Da dürften sich noch einige mehr begeistert zeigen. Da sprechen wir gern auch, was wir sonst eher selten tun, von einem Meisterwerk unter Meistern ihrer Instrumente. Bitte mehr davon!
Großartig!
Jochen Rueckert With Best Intentions
English Version
"Jochen is a jazz drumming German expat living in NYC. His deliberate avoidance of formal music education, albeit initially for budgetary reasons, provides a great lack of erudite nonsense in his writing. Besides his own groups, Jochen is known for his recent work with Fred Hersch, the Melissa Aldana trio, Marc Copland trio, the mid-2000 Kurt Rosenwinkel New Quartet and Nils Wogram's Root 70."
Strictly speaking, we can close this website, still we do not succeed in finding outstanding recordings ourselves, once more we see that good recordings are sighted and reviewed by allaboutjazz, once more we are "only" left with the role of the impulse amplifier.
In order not to be suspected of "copying" from allaboutjazz, we avoid re-reading in advance and refer to the other sources available to us, as there are website, streaming services and search engines.
Jochen Rückert (1975), we see, is a native of Cologne with American citizenship and has lived in New York since 1995. His debut album Introduction was released in 1998, featuring Hayden Chisholm (1975), Ben Monder (1962), Kurt Rosenwinkel (1970), Chris Potter (1971) and Johannes Weidenmüller (1966). Available from these sellers: Album. link, an exciting and rock-solid modern jazz album featuring a who's who of jazz, two are sixties vintage, three seventies. Already established as a drummer at 23, you might ask.
On Bandcamp we find the albums Stars and Gaters (2020) and We make Rules (2014). On his website we find references to work under the alias Wolff Parkinson White, so we would have a first mountain of work ahead of us – to listen to it all. Alongside the usual preparatory measures such as image editing of the fancy cover – it's produced, mixed, mastered, and designed by Jochen Rueckert, digital art by Mike Winkelmann/Beeple – also important and not rarely enough taken to heart: a good cover image creates additional identification.
Nevertheless, we would not have come across this recording without the coverage of allaboutjazz. Therefore, a thank you from here to there, we're now doing the gettoblaster on it.
If you are interested in jazz, please: here!
Bass and drums open The Dress softly, brass sections follow, that's bass clarinet, trombone and saxophone, chorus. The clarinet is allowed to start melodically, bass and drums drive forward. Chorus again. Saxophone goes solo. Bass and percussion drive. Final chorus.
Rainbow Road saxophone, drums and bass open and send trombone into solo, bass and drums drive forward with hardbeat. Saxophone takes over. A powerful ride over the parkour that drives forward quickly. Catholic Mahogany is quietly intoned by trombone, saxophone and bass clarinet, warmly restrained and sending the clarinet into the fray, the syncopated work of bass and drums giving it a lead of its own.
With this, the recording is already in winning mode, it remains with these wonderful wind movements, whereby the trombone gives an extra warm sound in Unmitigated. It is allowed to pass the solos back and forth with the saxophone in all serenity. Muetze Glatze opens with the bass clarinet, everything listens reverently. Goes into a beat, is picked up by bass and drums, saxophone and trombone do the chorus, bass clarinet moans and groans, the verbal attacks take place in the alternation of the winds, which is already surprising: the pieces have an extremely entertaining life span.
Great record, great musicians, top score. Item.
With Best Intentions, the title track with opening trombone in the sung bass, the bass clarinet enters and takes over the rhythm, on which the trombone lives out its floating, they change roles, trombone gives the rhythm in its own staccato and swell, on which the bass clarinet now also lives out its floating and again role change back to the trombone in the solo. Wonderful.
Again in full beat on drums and bass in Pherothstorium with chorus movement for saxophone and trombone, that sets the solo of the saxophone free, first round, second round on trombone, drums and bass in continuous run to it. It goes off. A drum solo is played in the middle. The whole thing is over as quickly as it began.
Double Sensotron, the worn number, complaint and lament goodness like the whole album on the best way to steer the brain to full score on this night light path of Gershwin somewhere in the canyons of the city. The interplay of trombone and bass clarinet once again: it doesn't get any more beautiful than this.
Mark of The Beast. As the title suggests: bass and drums storm off and saxophone and trombone bring the Meckie Messer story with them, which trombone and clarinet are allowed to flesh out completely. And chorus. And out. Any questions? No, no questions. Just press the button and go, right away again.
The recording is a stroke of luck. Anyone who doesn't know how to celebrate it, praise it and give it top marks probably doesn't want to treat us to this recording, one wonders what are they waiting for. Why does this outstanding piece by Allaboutjazz and so far only by them (as of 14.05.) have to be highlighted? It's Jazz Made in Germany and doesn't need to hide, that's why they celebrate it in the USA, while we are late again here?
Now let's read allabout jazz again- the 4.5 stars are welcome to be rounded up to 5.0. Please thank you yes.
It begins with: "This outstanding sixth album by Jochen Rueckert …" We read about eighths of substance and a Joris Roelofs who deserves more attention, about beauty and tension and about a brilliant drummer Jonas Rueckert and we fully agree. There should be a few more who are enthusiastic. We are happy to speak of a masterpiece among masters of their instruments, which is something we usually do rather rarely. More of it, please!
Great!
Mark Turner (sax), Nils Wogram (tromb), Joris Roelofs (cl), Doug Weiss (b), Jochen Rueckert (dr)
Jochen Rueckert With Best Intentions : ein weiteres Album eines in New York Lebenden aus Deutschland stammenden Musikers: Tobias Meinhart Berlin People Dark Horse * evolve for may the lineup * jochen rückert quintett mit mark * lineup and evolve for april * Jochen Rueckert With Best Intentions * Jochen Rueckert With Best Intentions